DITA Eyewear

Flagship Retail Stores



Spatial Design
Warm Minimalism:
Natural Materials & Modern Forms

Many contemporary artists and designers, deem context and tradition irrelevant, choosing to take a purely personal approach to their craft. Dita takes an exception to this reductionist approach to modernism, choosing context and tradition as the foundation of the environment.

Conceived as one part optical laboratory, one part showroom, the space balances an ascetic strength, with textural and sculptural details. Designed in collaboration with architectural practice TagFront under the leadership of brothers Mandi and Mehdi Rafaty the design philosophy was informed by the concept of 'Warm Minimalism' a balance of natural materials and modern forms.

"Japan's rich history of craft, design, and culture has informed our work since the beginning," explain John Juniper and Jeff Solorio, who co-founded Dita in 1995. "This flagship is more than just a celebration of contemporary design – it's an opportunity for patrons to experience Dita's innovative products and craftsmanship like never before."
Sculptural displays and the juxtaposition materials reign supreme underscoring Dita's appreciation of craft with inspiration being drawn from Japan's influence on European design in the first half of the 20th century. Initial research included movements such as the Vienna Succession all seen through a contemporary lens.
Inside, the space is split into two areas. The smaller, more pared-back zone to the left of the entrance houses the DITA LAB, where customers can personalise their eyewear with custom sunglass or prescription RX lenses. White surfaces and strict grids add to the clinical concept of this area, while the stone keeps it warm and inviting.

On the other side of the store, a larger room acts as a showroom, where customers can browse, try on products, and learn about the brand. Here, dark shelves arranged in columns of different widths are used to present the brand's eyewear collections, which include its own line, and ranges by two other Dita Group brands: New York fashion designer Thom Browne and newly acquired fashion brand Christian Roth.
DITA Showroom
& DITA Lab
The Dita Lab is staffed by eyewear technicians who can personalize any frame with sunglass or prescription RX lenses. In sun a variety of different lenses are on offer which can be cut to any of the frames available within the showroom, enabling you to personalize your product.

In optical, we are able to read eyes and fill prescription within the Dita Lab, so it can be a 'one stop shop' for prescription RX lenses and any frame of your choosing. In addition, the Dita Lab also offers maintenance in any cases of small repairs and polishing in order to keep your frame looking brand new.



Clear satin Glass panel


Made by melting together several minerals at very high temperatures. Silica in the form of sand is the main ingredient and this is combined with soda ash and limestone and melted in a furnace at temperatures of 1700°C. A perfect matte finish is applied to the surface for beautiful light diffusing effects within the space.
Bronze Satin Glass Panel

Luminous, smooth, and subtle. This bronze satin glass panel is used for is overall warmth an emotive effects within the space. Providing a break from the brushed stone surfaces.
DITA Aoyama
5-8-8 Minami Aoyama Minato
Tokyo Japan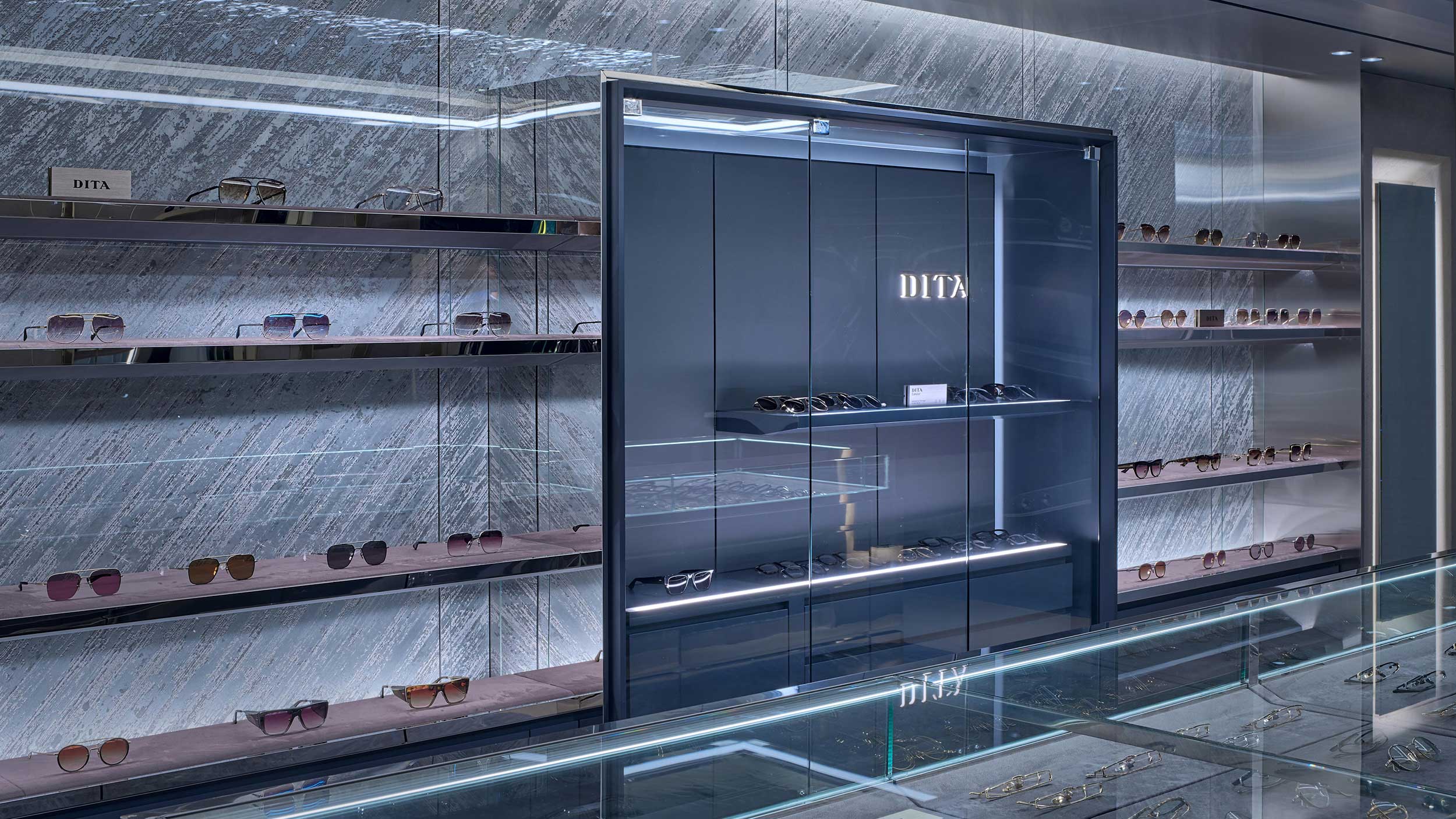 DITA Seoul
21 Apgujeong-ro 10-gil, Gangnam-gu, Seoul S. Korea

Brushed Brass Detailing

Historically malleabal and workable, brass also has a harmonious musical aspect, making it the metal of choice for construction of musical instruments. Within the space brass is used as subtle accents.

Brushed Pietra Grey Marble

Pietra Grey marble is a gorgeous contemporary marble. Imported from specialized quarries such as the Carrara region of Northwest Italy's Apuan Alps. Each piece is hand selected and utterly unique. This marble is made up of warm grey tones and striking white veining throughout.
DITA Madison
946B Madison Ave,
New York, New York 10021